Agriculture & Natural Resources
Agriculture & Natural Resources
Our program provides education, training and technical assistance to individuals and businesses concerned with profitable agriculture.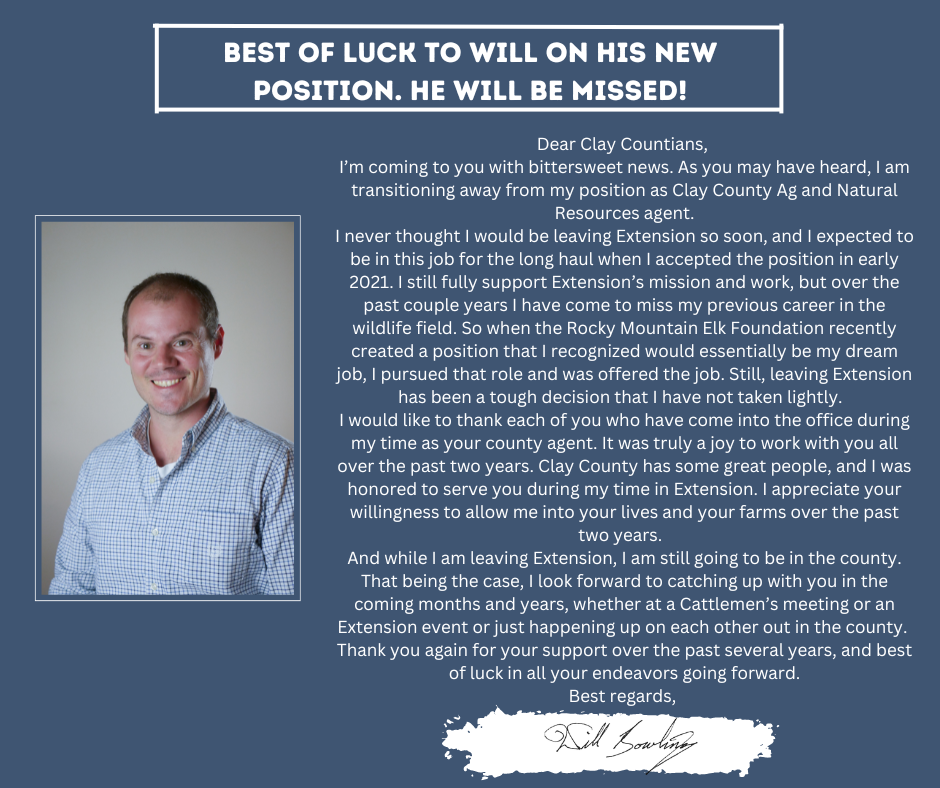 Dear Clay Countians,
I'm coming to you with bittersweet news. As you may have heard, I am transitioning away from my position as Clay County Ag and Natural Resources agent.
I never thought I would be leaving Extension so soon, and I expected to be in this job for the long haul when I accepted the position in early 2021. I still fully support Extension's mission and work, but over the past couple years I have come to miss my previous career in the wildlife field. So when the Rocky Mountain Elk Foundation recently created a position that I recognized would essentially be my dream job, I pursued that role and was offered the job. Still, leaving Extension has been a tough decision that I have not taken lightly. 
I would like to thank each of you who have come into the office during my time as your county agent. It was truly a joy to work with you all over the past two years. Clay County has some great people, and I was honored to serve you during my time in Extension. I appreciate your willingness to allow me into your lives and your farms over the past two years. 
And while I am leaving Extension, I am still going to be in the county. That being the case, I look forward to catching up with you in the coming months and years, whether at a Cattlemen's meeting or an Extension event or just happening up on each other out in the county.
Thank you again for your support over the past several years, and best of luck in all your endeavors going forward.
Best regards,
Will
What Is Agriculture and Natural Resources?
Agriculture and Natural Resources (ANR) is a program area of the Kentucky Cooperative Extension Service. Extension ANR programs are part of the outreach program of the University Of Kentucky College Of Agriculture. We provide informal education in agricultural production and environmental stewardship.   
Departmental specialists, researchers, and county agents develop and implement ANR programs. In addition to production agriculture, a small staff of Extension Associates provides focused assistance to state and county staff on interdisciplinary and critical-need programs. These programs may deal with the interface between production agriculture and environmental stewardship. Associates also address the relationship between farmers and non-farm rural and urban citizens. Our programs make a difference in the lives of millions of Kentuckians through research-based education.
Working with our other land grant partner, Kentucky State University, we extend the resources of the University to the people in their local communities. County agents serve as the link between people in every Kentucky county and experts in the universities. They coordinate and provide educational programs for the public through meetings and workshops, field days, personal communications, and web or satellite broadcasts. Agents also provide publications, newsletters, computer programs, videos, and other educational materials.